Hump Day Buzz of the Week
Although modern technology has made it easier for marketers to track and report on their efforts, measuring the true value delivered by B2B marketing organizations continues to be a big challenge. Forrester Principal Analyst Brett Kahnke presents a new way of thinking, which can be used to analyze any marketing. One of the biggest takeaways is that understanding the difference between complexity and complication can help identify the best measurement approach. Read the article to learn more about how to handle complication and complexity in marketing measurement.
Not all social channels are the right fit for B2B marketers. The overall value of social media marketing is often questioned, but the key to the perfect social stack is to put your strategy before tactics and channels.
On the latest episode of Marketing Smarts, Kerry O'Shea Gorgone talks to the co-authors of the Ultimate Guide to Social Media Marketing. They take a deep dive into social media for B2B marketers and which tactics can help further your marketing goals. They also talk about what valuable opportunities B2B marketers are missing out on right now. Listen to the full podcast now!
Creating content that resonates with customers and prospects across multiple continents and regions is a huge challenge for global marketers. Here are four tips to achieve brand uniformity and customer-centric content:
Templatize content structure

Stop thinking from your perspective

Listen to your customers

Keep changing/adapting
Region- or country- or language-specific content shows your customers and prospects you really care. It helps build trust and establishes legitimacy. Read the full article to learn more.
Marketing Certifications have evolved to become excellent opportunities for digital marketers to grow their knowledge—if you choose the right ones. NP Digital and Subscribers Co-founder Neil Patel breaks down the 10 certifications worth pursuing:
Digital Marketing Institute's Digital Marketing Pro

Microsoft Advertising Certification

Google Analytics Individual Qualification

OMCP Digital Marketing Certification

Hootsuite Academy Marketing Certification

Google Ads Marketing Certification

YouTube Certified

HubSpot Content Marketing Certification

Facebook BluePrint Marketing Certification

SEMrush SEO Toolkit Course
To understand what each certification offers and its cost, here's a detailed outline.
The 2020 list of the world's 50 most influential CMOs is here. This year's ranking is based on brand performance, personal influence and industry influence.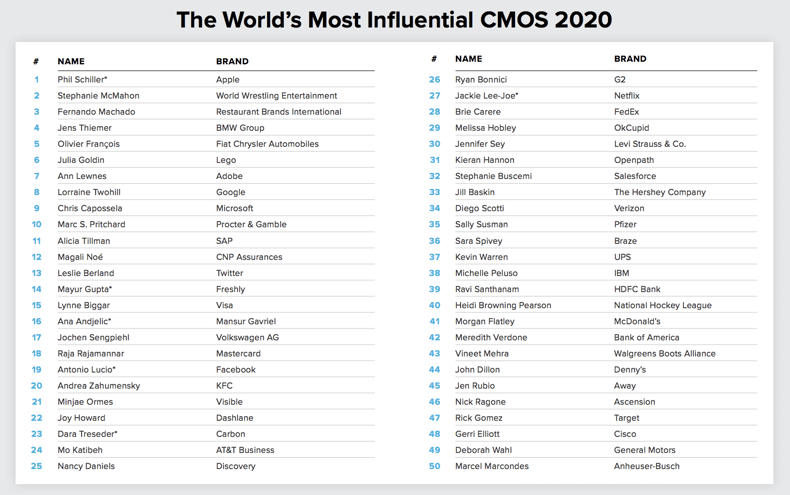 The largest percentage of CMOs on the list (32%) are in tech. Another 32% are scattered across financial services, restaurant and meals, automotive, consumer goods, and leisure and entertainment. The remaining 12% are in apparel, telecom, healthcare and pharma, retail and logistics.
Check out more Hump Day Buzz Content!